Aplicaciones

*    Abastecimiento de agua potable

*    Agua para animales

*    Control de estanques

*    Riego

*    etc.

Characteristics

* flow rate up to 1,30 m3/h

* lift up to 150 m

* same performance for 12 and 24 V DC

* handles sea water, dissolved minerals

* maintenance-free

* excellent efficiency thanks to modern

     brushless DC motor technology

PS2 has eight sensor inputs that allow analog and digital sensors to be connected. This combination of sensors with the built-in software applications allows complete control of the pump and specific water applications.

Application

* water pressurising

* drinking water supply

* livestock watering

* pond management

* irrigation

* filtration

* etc.

Features

* rotary vane mechanism

     (positive displacement),

* made of forged brass, carbon-graphite and

     stainless steel brushless DC motor

* solar operation: MPP tracking, current

     booster for solar direct  applications,

     pump speed control

* low voltage disconnect for battery

     protection,

* terminals for float/remote switch and low

     water probe

* PV-direct (Non-battery) operation

    requirement:

* rated power of PV module must exceed

   pump watts by 20 % or more. Voc 50 V DC

* suction capacity: 5 m/20 ft

* horizontal or vertical mounting

** cannot tolerate dirt, water must be filtered           clear

* must not be submerged

Accessories

* inline filter (10 in),

* standard filter cartridge

* installation kit:

* Pressure switch,

* pressure gauge,

* check,

* drain

* shut-off valves,

* tank tee float switch for tank shut off if full

* well probe sensor to protect pump from

   dry-running

Resumen

*    Altura de transporte hasta 140 m

*    Caudal hasta 0,9 m3/h

*    Instalación sencilla

*    Sin mantenimiento

*    Alta precisión y larga duración

*    Gran rentabilidad, centrifugas verticales

          desplazamiento positivo

*    Dos años de garantía por defectos

          de fabricación

Lorentz PS2 150 Boost

Bomba solar

Caracteristicas

* caudal de hasta 1,30 m3 / h

* levantar hasta 150 m

* mismo rendimiento para 12 y 24 V DC

* maneja agua de mar, minerales disueltos

* libre de mantenimiento

* excelente eficiencia gracias a la moderna

     tecnología de motor DC sin escobillas

PS2 tiene ocho entradas de sensores que permiten conectar sensores analógicos y digitales. Esta combinación de sensores con las aplicaciones de software incorporadas permite un control completo de la bomba y aplicaciones específicas del agua.

Aplicaciones

* presurización de agua

* suministro de agua potable

* riego de ganado

* gestión de estanques

* irrigación

* filtración

* etc.

Caracteristicas

* mecanismo de paleta giratoria

     (desplazamiento positivo),

* hecho de latón forjado, grafito de carbono

     y motor DC sin escobillas de

     acero inoxidable

* operación solar: seguimiento de MPP,

     actual refuerzo para aplicaciones solares

     directas, control de velocidad de

     la bomba

* desconexión de bajo voltaje para la batería

     proteccion,

* terminales para flotador / interruptor

     remoto y bajo sonda de agua

* Operación PV-Direct (sin batería)

    requisito:

* la potencia nominal del módulo

    fotovoltaico debe exceder bombear vatios

    en un 20% o más.

* Voc 50 V DC

* capacidad de succión: 5 m / 20 pies

* montaje horizontal o vertical

** no puede tolerar la suciedad, el agua

       debe filtrarse

* no debe estar sumergido

Accesorios

* filtro en línea (10 in),

* cartucho de filtro estándar

* kit de instalacion:

* Interruptor de presión,

* manómetro,

* cheque,

* desagüe

* válvulas de cierre,

* interruptor de flotador en T del tanque

    para apagar el tanque si está lleno

* sensor de sonda de pozo para proteger

   la bomba de funcionamiento en seco




Quito, Ecuador, Sudamérica


Importador y distribuidor oficial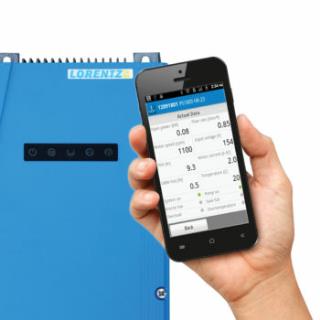 La herramienta para ver el funcionamiento de la bomba Lorentz en su celular en realtime - Datalogger